Green Living
The 25 Best Gifts for Plant Lovers for the 2020 Holiday Season
When compiling your holiday gift idea list this year, we invite you to consider the humble houseplant. Sure, a Bird of Paradise is not a new set of Airpods or an overpriced luxury candle, but plants quite literally breathe new life into a home and offer the owner the gift of a green thumb and years of beauty and companionship.
Plus, plants are waste-free, immaterial gifts that will encourage your loved ones to develop a nurturing new hobby. The simple act of caring for plants can serve as a welcome, almost meditative reprieve from the chaos that is 2020.
With that, we'll step off our soapbox and get to the best gifts for plant lovers in 2020. From a potted Sansevieria to a trusty houseplant pruner, indoor plants and the corresponding care tools and decor make for incredibly thoughtful yet practical gifts for plant-loving friends and family. Plus, we're offering free shipping on all orders over $75, with a 30-day delivery guarantee.
Without further adieu, shop the 25 best gifts for plant lovers below, from the aesthetic-minded plant parent to the edible garden connoisseur.
Introduce your friend to the joys of plant parenthood with our Tough Stuff Collection — an assortment of three easy and adaptable plants that are perfect for novices. Complete with a small snake plant, ZZ plant, and hoya plant, this laid-back trio will ensure that the giftee has a breezy first-time plant care experience.
If your loved one is new to plant parenthood, chances are they haven't compiled their arsenal of plant care tools just yet. Gift them a proper stainless steel houseplant pruner to start, and consider bundling it with our soil scoop, snips, and hand trowel for a complete plant parent starter pack.
The notoriously temperamental Fiddle Leaf Fig is the perfect plant gift for the experienced plant person who's up for a challenge. Plus, these sculptural beauties are a staple in well-appointed homes and apartments — they're well worth the extra effort!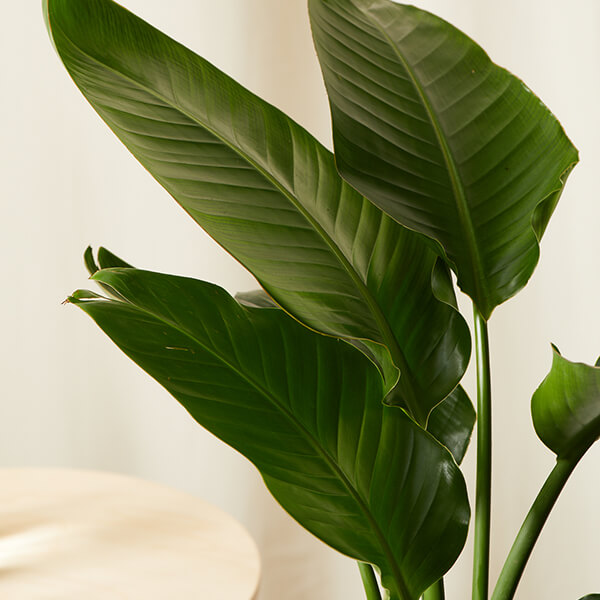 The stunning Bird of Paradise plant is the gold standard in stylish houseplants. It's the perfect gift for the aesthetically-minded friend or family member on your list, especially if they're decorating a new home or apartment. Best of all, they're incredibly low-maintenance and easy to care for — they'll thrive in basically any space.
For the curious plant lover that's experimenting with the art of propagation, gift them a proper kit. Our terrazzo set includes a concrete stand, glass tube, and rooting hormone that will allow your friend to thoughtfully display their budding plant babies.
Any home decor enthusiast will appreciate a thoughtfully-designed hanging planter. Crafted with smooth oak and cotton rope, our Loop Wall Hanger is modern, affordable, and perfectly giftable. It's the perfect home for small trailing plants like the Philodendron Velvet Leaf, variegated Hoya, and Peperomia Piper.
7. For the Teacher-Slash-Parent: Grow-How™ Kit
Any parent moonlighting as a teacher this year will appreciate this fun and educational activity for their kids. Complete with a Philodendron Heartleaf Plant, propagation kit, and a care workshop led by Plant Mom, our Grow-How™ Kit teaches little ones the art of plant care. Plus, we're donating $20 of each purchase to the kids at Detroit Prep.
8. For the City Dweller: Sansevieria
If Instagram is any indication, snake plants are a staple in stylish urban apartments from coast to coast. Gift your city-dwelling bestie one of these low-maintenance plants to kickstart their plant collection, and breathe new life into their small space.
9. For the Stressed-Out Loved One: Lavender Plant
We can all agree that 2020 has been a banner year for stress and anxiety. For the friend that's been hit particularly hard, gift a soothing lavender plant. This therapeutic herb has been used for centuries to curb anxiety, insomnia, and restlessness. The purple sprigs can also double as decor and look beautiful in vases and vessels of all kinds.
10. For the Holiday Hostess: Norfolk Pine
For the family member playing host this holiday season, say "thank you" with a Norfolk Pine. This delicate plant lends a festive touch to any space and looks right at home among twinkle lights, garland, and wrapped gifts. For those in small apartments, it's also a great alternative to a cumbersome Christmas tree.
11. For the Furloughed Friend: Money Tree
Let's be honest: we could all use a little financial luck in 2020. If your BFF was one of the countless people who got laid off or furloughed this year, gift a Money Tree. According to feng shui principles, these foliage plants bring the owner positive energy and good fortune and should be placed in a home office, if possible. Plus, these unique plants also lend a relaxing, tropical feel to any space.
If quarantine has turned your friend or family member into a seasoned home chef, upgrade their cooking game with our Savory Herbs collection. Complete with mini oregano, parsley, and basil plants, your loved one can garnish all future meals with fresh, hand-picked herbs.
13. For the Mojito Lover: Mint Plant
Handcrafted cocktails are another cherished quarantine pastime, and our mint plant is perfect for the mojito enthusiast on your list. Additionally, the giftee can add a dash of fresh mint to teas, salads, smoothies, dips, and more.
14. For the Outdoor Gardener: Tomato Plant
If your loved one laments their summer vegetable garden come September, give them the gift of fresh produce year-round with our tomato plant. This micro varietal is a unique hybrid plant cultivated specifically to grow indoors on a sunny windowsill from November through May.
15. For the Health Enthusiast: Kale Plant
For the health-conscious friend on your list, you can't beat unlimited home-grown kale salads. Our hardy kale plant was designed to be grown indoors in a well-lit kitchen, but will also thrive in your loved ones' outdoor garden come spring.
16. For the Essential Oil Enthusiast: Chamomile Plant
Indulge your loved one's interest in herbal medicine with a Chamomile plant. This low-brow herb once was seen as a medicinal cure-all and has been used to ease anxiety, inflammation, menstrual cramps, insomnia, gastrointestinal issues, and more for centuries. At the very least, the gift recipient will get a good cup of tea out of it.
If your friend's love of plants is only rivaled by their love of dogs, gift the pet-friendly collection. Complete with Peperomia Green, Peperomia Ruby Glow, and Peperomia Happy Beans, this cute trio won't pose a health risk to their furry family members. Plus, these succulent-like plants are drought-tolerant and easy to care for.
18. For the Feline-Loving Friend: Cat Grass
For the cat lover in your life, cat grass is a great gift for both your feline-loving friend and their fur babies. This herb not only tastes good to wild and domestic cats, but it can also improve their digestion and provides health-boosting vitamins, minerals, and antioxidants.
Cacti thrive on neglect, making them a perfect gift for the person who's basically never home. The Prickly Pear in particular only needs water one to two times the entire winter. While 2020 has obviously not been a banner year for travel, cacti last for ten-plus years and will serve as a suitable companion for your globe-trotting friend in the future.
Match your loved one's unique spirit with an equally unique plant: the Bromeliad Pineapple. This flowering plant will actually grow an edible pineapple fruit right in your living room — it doesn't get more eccentric than that.
21. For the Friend That Desperately Needs a Vacation: Coconut Palm
While the Coconut Palm plant will not transport your loved one to a tropical island, you can lift their spirits by making their living room feel like one. This plant is literally a palm sprouting from a coconut — it doesn't get any more staycation than that!
For the friend whose wardrobe consists of concert merch and a "Doing Things" hat, you simply cannot have too many canvas tote bags. Stuff our leaf tote with a Bloomscape gift card (plus the bonus tea towel) for a small yet thoughtful gift.
This person may not need another houseplant, but they'll most likely appreciate this set of letterpress posters designed and printed in Detroit. Depicting a Rubber Tree, a Bird of Paradise, and a Philodendron Hope Selloum, these botanical prints will take any urban jungle to the next level.
If your friend swears by her Masterclass subscription, chances are she'd appreciate a virtual plant care workshop. This $15 introductory course covers basic plant care and rookie mistakes, courtesy of our plant care experts. Choose a date and your friend will just have to tune in via Zoom.
If you find yourself running to the nearest mall on December 23 year after year, we've got your back. Simply print out an e-gift card of your chosen dollar amount, and you have a thoughtful, practical gift for anyone on your list in 10 minutes.
For more gifts for plant lovers, visit the Bloomscape Holiday Shop!