Fiddle Leaf Fig
$195
Tall, sculptural, and dramatic. This plant will flourish in the right conditions.
Choose Color
Shipping
Free shipping on orders over $75.   Learn More
Guarantee
If your plant dies within 30 days, we'll replace it for free.   Learn More
No single-use plastic

Ecopots made from up to 80% recycled plastic

Plastic-free packaging
Description
The Fiddle Leaf Fig is easily recognizable and loved for its distinctive foliage. This tall, dramatic plant has very large, heavily veined, violin-shaped leaves that grow upright. It's not bushy, making it a beautiful interior design addition for a brightly lit corner or cozy nook in your home.
Native to the tropic climate of Western Africa, the Fiddle Leaf Fig thrives in very warm, bright, and humid conditions. This can make them somewhat challenging to grow indoors, but luckily they are relatively tough and can withstand less than perfect conditions.
They will need an area with brightly filtered light or an eastern facing window. Careful watering and warmer temperatures will help this gorgeous indoor plant thrive.
Additional Resources
:
Botanical Name
Ficus lyrata
Common Name(s)
Fiddle Leaf Fig
What's Included
Healthy plant in its pot with premium soil — Saucer included
All the tips and tricks for expert-level care
Plant size (including pot): 44"-58" tall
Pot Size: Ecopots, 11.8" in diameter, 10.25" tall. Saucer Size: 10.5" in diameter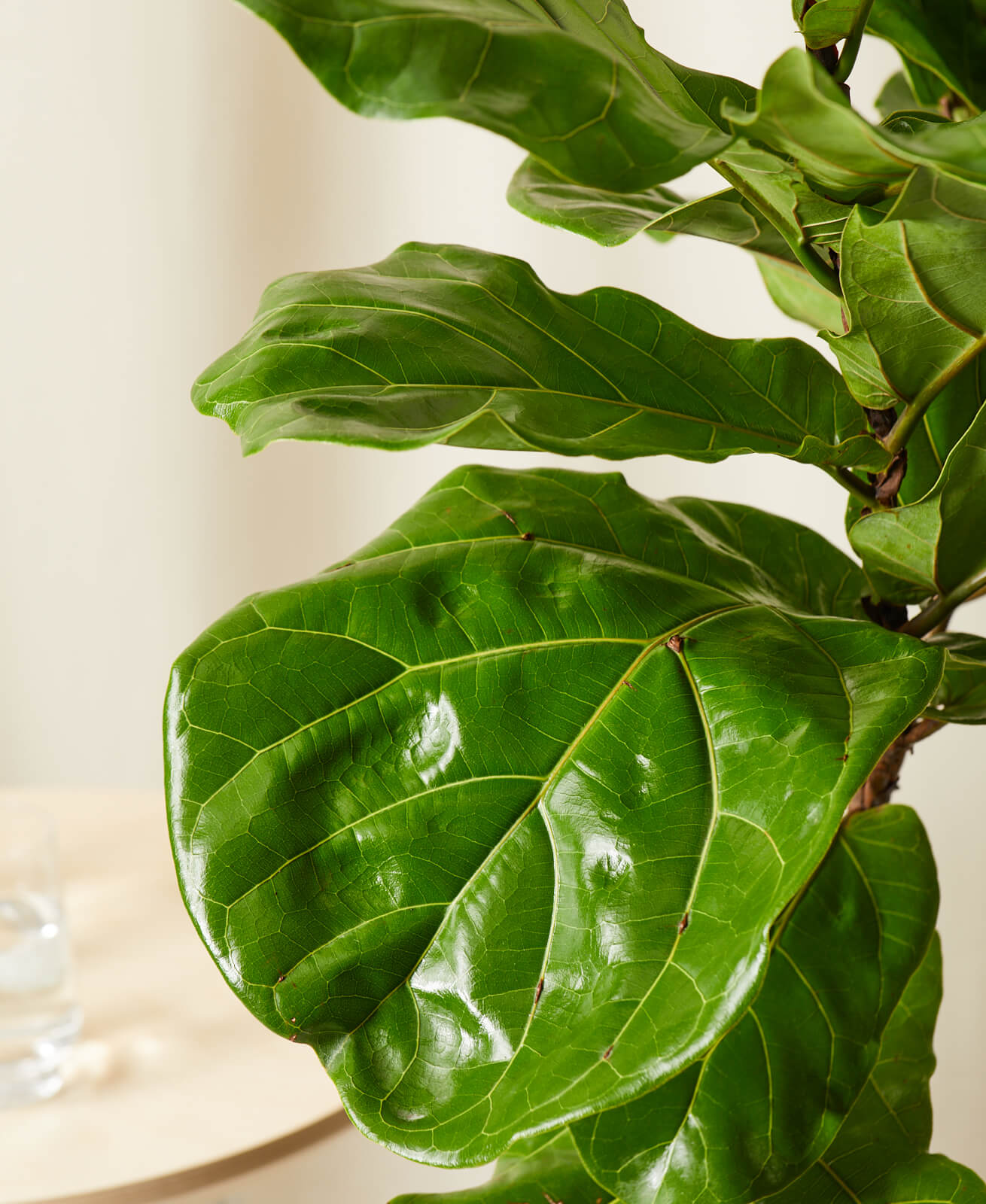 Living Room Ready
Unlike buying a plant from a box store, your Bloomscape plant arrives fully-grown as pictured and pre-potted. We've spent a lot of time selecting pots that have optimal drainage, look great, and come with a saucer so your floor or desk won't get ruined. All you have to do is unpack your plant and find the perfect spot for it in your home.
Fully Grown + Healthy
Most of the time when you buy houseplants, they are partially grown and kept in less than ideal conditions. With Bloomscape, our houseplants are grown and cared for in our greenhouses by plant experts until the day we ship them to you. That way, your plants arrive fully-grown, healthy, and ready for you to enjoy.
What People are Saying
"Any service that allows you to order a full grown plant online and then delivers it right to your door is my kind of service!"
Kelsey, Pittsburgh, PA
"I always struggle with how much to water plants, but this plant came with care instructions!"
Kristen, Omaha, NE
"Loving my new Monstera plant...the best part—it was delivered STRAIGHT to my door, already potted, in the cutest packaging!
Kaylyn, Riverside, CA