Staggered Yucca Cane
$199
Low maintenance with sword-like green leaves atop three sturdy canes
Choose Color
Details & Care

Size

Extra Large—44"-54" tall (including recycled plastic Ecopot) Size Guide

Difficulty

No-fuss—Carefree

Light

Bright Indirect to Direct

Pet Friendly

No—Toxic and not pet-friendly

Air Cleaner

Yes—Releases oxygen and absorbs pollutants
What's Included

Healthy plant pre-potted with premium soil

Plant size: 44″–54″ tall (including pot)

Large Ecopots pot and saucer

Pot size: 11.8″ in diameter, 10.25″ tall
Saucer size: 10.5″ in diameter

All the tips and tricks for expert-level care
Ships within 2-6 days
Free Shipping
Free shipping on orders over $75.
Learn More
Guarantee
If your plant dies within 30 days, we'll replace it for free.   Learn More
Description
The easy-to-grow Staggered Yucca Cane is a great choice for any first-time plant owner. Showing off its sword-like foliage on three broad canes, this plant makes a bold statement.
Native to Guatemala and southeast Mexico, the Yucca Cane plant enjoys dry environments and bright sunlight.
Additional Resources
:
Botanical Name
Yucca elephantipes
Common Name(s)
Yucca Cane, Adam's Needle, Spanish Dagger, Spoonleaf Yucca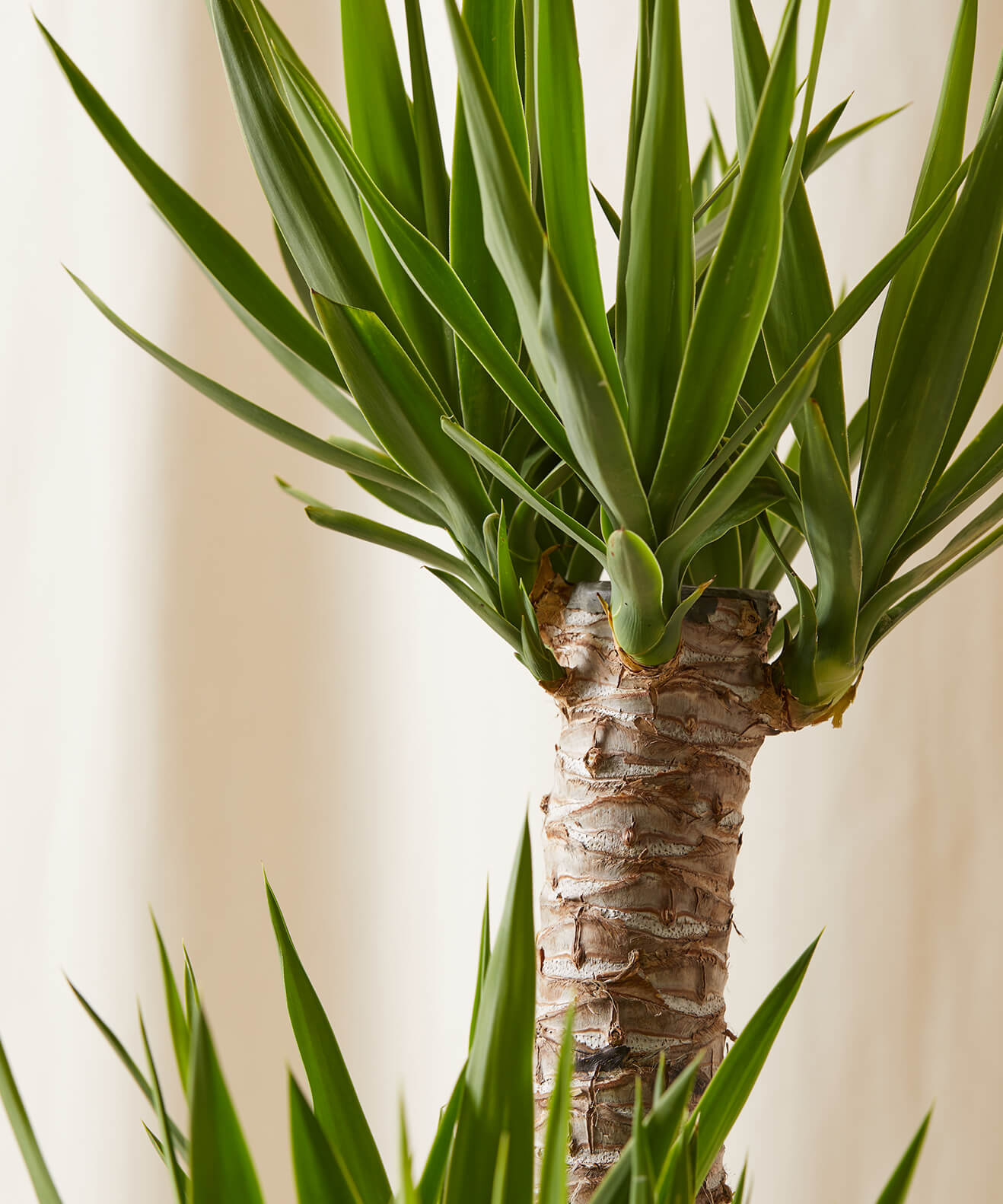 What People are Saying
"This is the best plant store I have ever ordered from! My plants were shipped/delivered so fast. When I had a question, Bloomscape got back to me right away, and they were so friendly!"
Jess J.
"The plants are in such great shape when they arrive, the pots are beautiful, and the variety is fantastic."
Meghan K.
"I knew nothing about plants, and was able to feel confident about caring for them. I haven't killed one yet, thanks to help from your care guides and Plant Mom!"
Kayla B.