Green Living
Plant Life Series: A Colorful Southwestern Home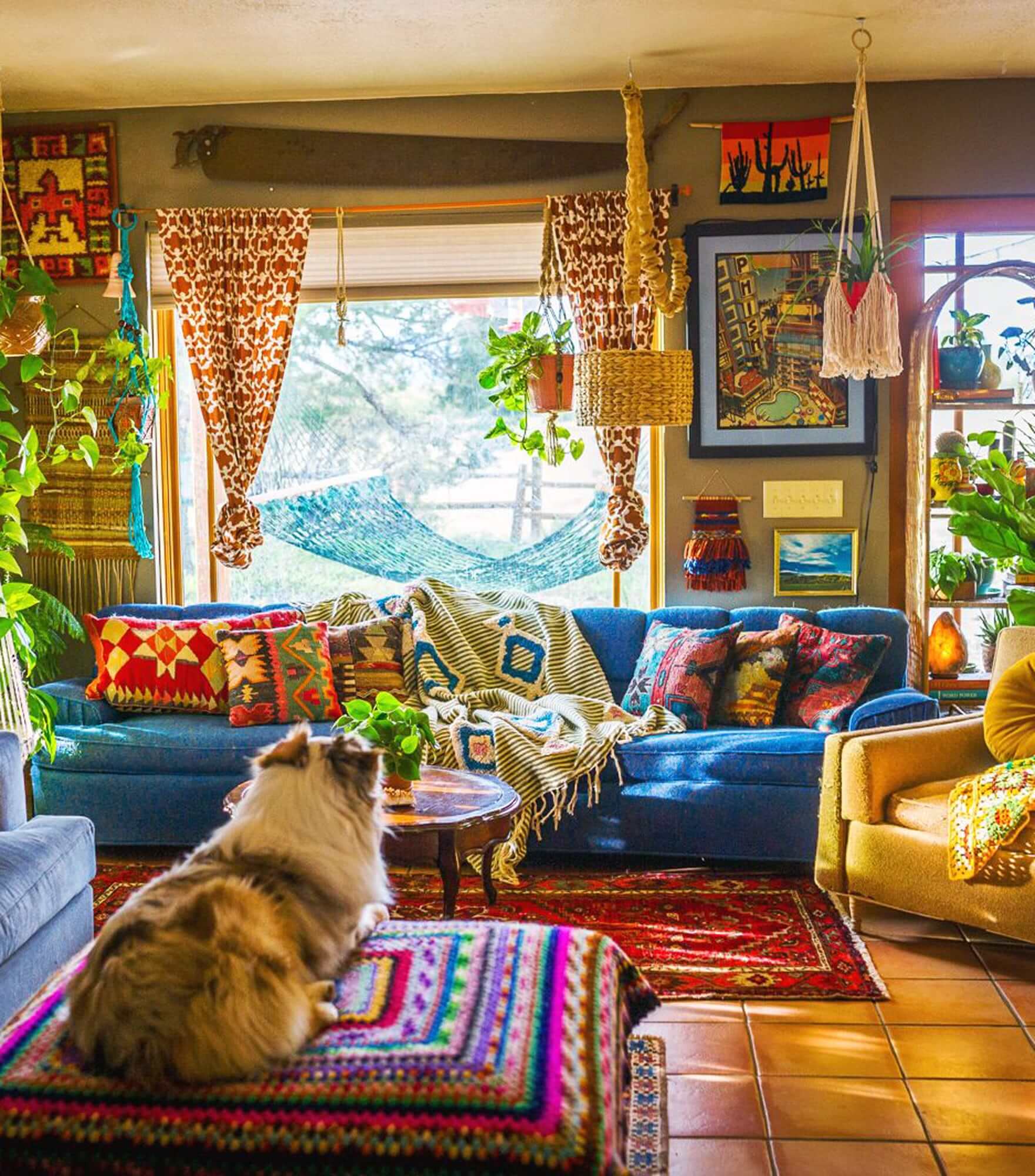 At Bloomscape, we're here to help you strengthen your relationship with plants—it's all part of our mission to bring gezellig to the world. And we love seeing how real-life families live with plants in their homes. In our Plant Life Series, we'll be taking a peek inside inspiring, plant-loving homes from around the country.
Chasity Kelly (@raddatattchazz), shares her colorful, maximalist bohemian home on her 40-acre farm in Colorado. We love her bold use of color, textures, and indoor jungle.
Tell us a little about yourself and who you share your home with.
A bit about myself and our little family. I live on a hemp farm in Colorado, with my husband ( Derek ) our 3 dogs Aspen, Nixxon, and Bitness Everdean, and our 19 chickens and 2 ducks! My mom just recently moved out here from Tennessee as well, and we've been renovating an RV for her. She lives on the property, super exciting having my mama out here! I am a barber by trade and Derek is a photographer. I have always been a lover of decor and had an eye for eclectic and unusual pieces. Our style is forever growing and evolving just as we are.
Tell us about your home.
Our 40-acre farm was built in 1995. It is a true southwestern style home, full of stucco, saltillo / spanish tile. All of the windows you could ask for!! This is our first home that has been so full of sunshine all day, truly a space made for plants! When we walked into the house, we immediately knew this was home! Our style is southwestern boho with a hint of retro! I am a lover of all the eras. True hippie at heart.

How do you describe your style?
Our style is southwestern boho. Maximalist all the way!!! I love to switch pieces out, so I try to always have a little more than needed haha. That's what the garage is for, right? I am a thrifter through and through. The best memories I have of my grandma as a kid are of us going to yard sales and thrift stores. I love giving old pieces new meaning and a fresh life! The stories, there are always stories!
What inspires you and how does your home reflect that?
Nature. I try to bring sunshine, warmth, and all of the green I can into our home! Even on a gloomy afternoon, when you walk into our home it's always bright & happy! I want our home to always feel comfortable, easy, and like home for anyone who walks in.
What's your favorite room and why?
oooh! I think the main living space. It is the brightest place in the house all day. The best view of the mountains, the front window looks like a painting. And this is where all the socializing happens, games, chats, dinner and even though it is a big open space, it is still cozy and comforting ! Cooler temps are upon us and the fireplace is soooooo nice to bundle up in front of! I love holidays, seriously my favorite time! Nostalgia for sure! the smells, the sounds, the air, it brings back so many childhood memories and being in the mountains makes it so much more magical.
How many houseplants do you have?
We have over 300 and every time I grocery shop we get a new one hahaha.
Why do you like having plants in your home?
I love bringing nature into our home. I think it is an easy way to decorate, and they give me fresh air! I love the act of taking care of them, it gives me some form of relaxation! Houseplants are the best addition to any home!
What's your favorite plant and why?
My favorite plant is a Pothos. I love the Philodendron family. Pothos are so easy to care for, I love all of the varieties they come in. They are beautiful and viney and just can make a space feel so lush with little effort! The easiest plant for someone who is good at killing plants haha. Their leaves are so glossy and pretty! Also, I have a cutting of a pothos plant from my granny( she has had since the 80s), and that mama is growing like crazy!! I just love how easy and beautiful they are! I think that cutting is what started my love for plants.
What tips do you have for living with plants?
Just go for it! don't be afraid to try some plants out. They add such a good element to homes. The vibe plants give is amazing! Start out with easy plants and go from there! You may kill some along the way, but ya live and learn! Happy Planting!