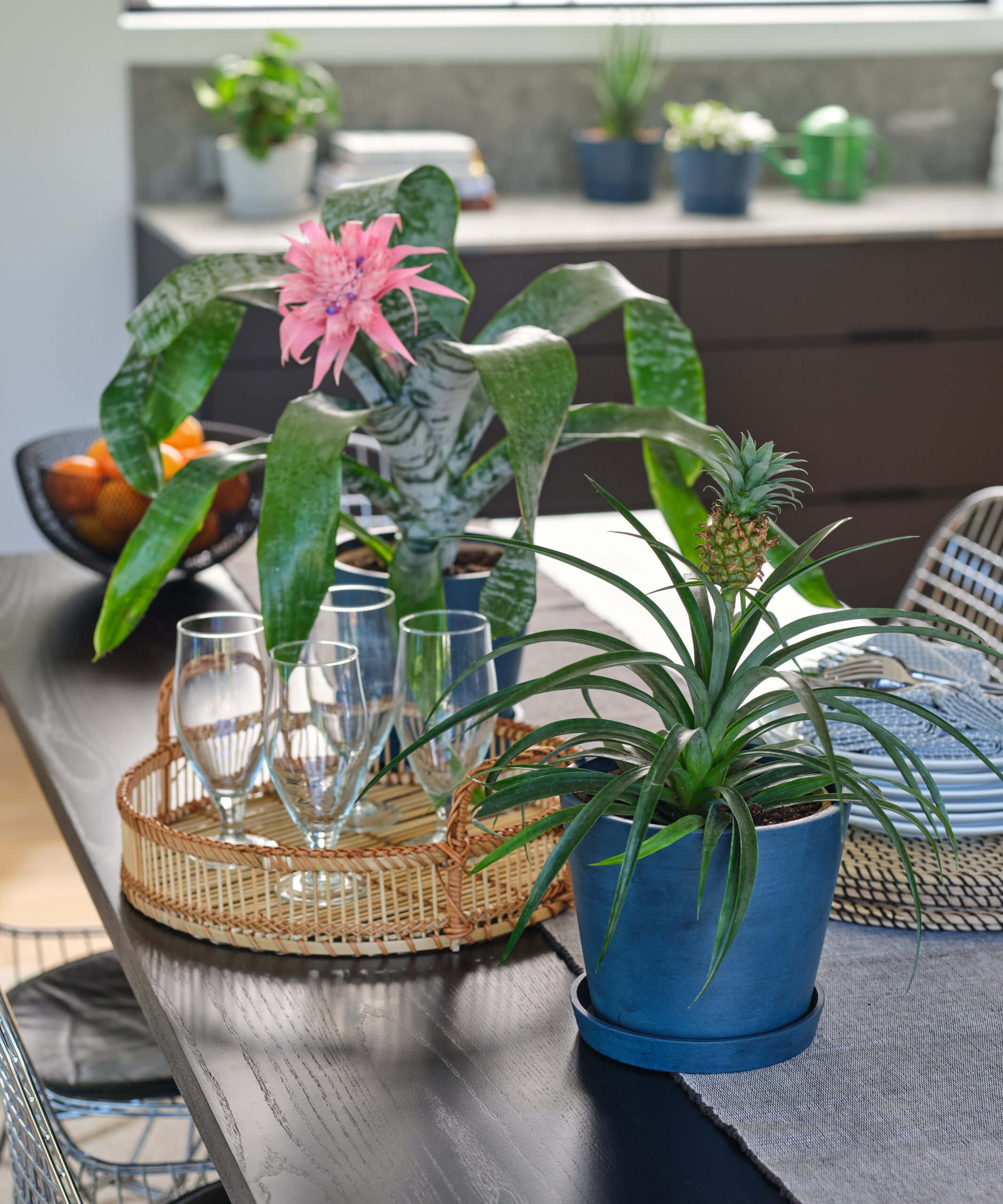 Statement Bundle
$158 $129
Turn some heads and brighten up your home with the Statement Bundle featuring the Bromeliad Aechmea Pink and Bromeliad Pineapple. This eccentric duo brings a warm vibe that makes you feel like you've been whisked off to a tropical destination. The fun Bromeliad Aechmea Pink and Bromeliad Pineapple are hands-off, letting you enjoy your indoor jungle without frequent maintenance. These two are sure to be the talk of the town or maybe just your next dinner party.
Choose Pot Color
Details & Care

Difficulty

Easy—Relatively low maintenance

Light

Low to Bright Indirect

Pet Friendly

Yes—Non-toxic and pet-friendly

Air Cleaner

Yes—Releases oxygen and absorbs pollutants
What's Included

Two healthy plants pre-potted in Ecopots with matching saucers:

MD Bromeliad Pineapple
MD Bromeliad Aechmea Pink

All the tips and tricks for expert-level care
Winter Shipping Notice
Based on your shipping location, this plant is currently unavailable for purchase. Please check back when the threat of damaging temperatures has passed in your area to ensure your plant is protected.
For certain shipping locations, this plant is unavailable for purchase until we can ensure it will be protected from damaging temperatures. Based on your shipping location, this plant is currently available for purchase.
Shipping to
Unknown
( )
Free Shipping
Get free standard shipping when you spend $150 or more. Learn More
Guarantee
If your plant dies within 30 days, we'll replace it for free. Learn More
Description
The bold and energetic Statement Bundle is ready to make its mark in your home or office. This dynamic duo includes the Bromeliad Aechmea Pink and Bromeliad Pineapple. The Bromeliad Aechmea features a long-lasting pink bloom and broad green leaves sprinkled with a silver coating. The Bromeliad Pineapple sprouts a fun ornamental pineapple from a whorl of long green leaves. Despite their unique appearances, these bromeliads are easy to care for.
Native to South America, these Bromeliads prefer indirect bright light and humid air, making them perfect for those warm sunny spots like kitchens and bathrooms. These Bromeliads prefer to dry out almost all the way between waterings, so you don't have to stress if you miss watering day every once in a while. Although these Bromeliads only bloom once in their lifetime, they will produce "pups" which will, in turn, grow their own gorgeous flowers and fruit.
Please note: The exact size and color of the pineapple fruit may vary from plant to plant. This product is not eligible for any additional discounts.
Additional Resources
: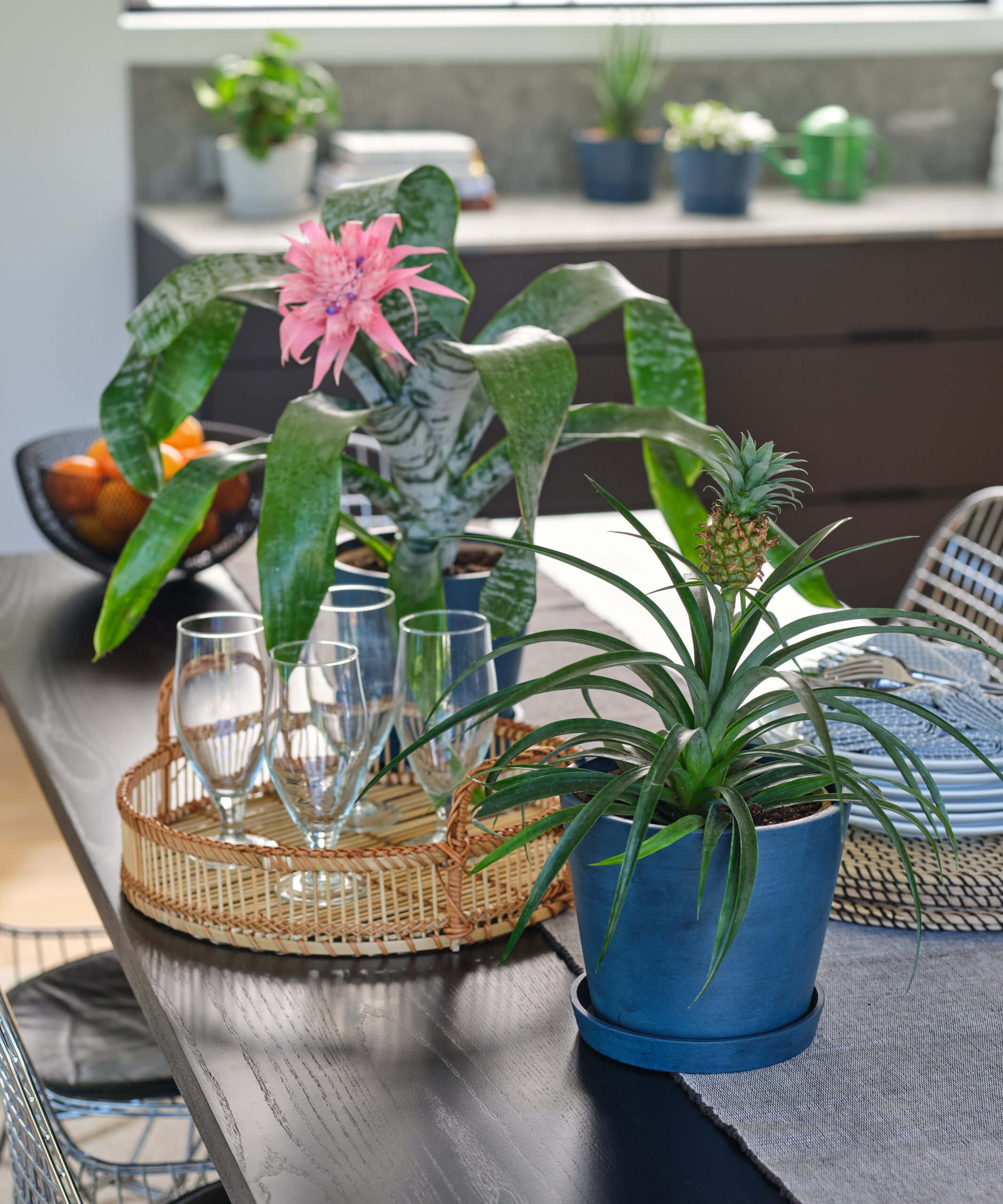 Meet the Plants
What People are Saying
"This is the best plant store I have ever ordered from! My plants were shipped/delivered so fast. When I had a question, Bloomscape got back to me right away, and they were so friendly!"
Jess J.
"The plants are in such great shape when they arrive, the pots are beautiful, and the variety is fantastic."
Meghan K.
"I knew nothing about plants, and was able to feel confident about caring for them. I haven't killed one yet, thanks to help from your care guides and Plant Mom!"
Kayla B.