Mini Money Tree
$35
A lively, pet-friendly plant topped with palmate leaves upon a stout trunk. A mini-version of the beloved braided Money Tree.
Choose Color
Details & Care

Size

Small—9"-15" tall (including Ecopot) Size Guide

Difficulty

No-fuss—Carefree

Light

Low to Partial—Low to bright indirect light

Pet Friendly

Yes—non-toxic to cats and dogs

Air Cleaner

Yes—Purifies air polluted with synthetic chemicals from cleaning products
What's Included

Healthy plant pre-potted with premium soil

Plant size: 9″-15″ tall (including pot)

Ecopots pot and saucer

Pot size: 6.3″ in diameter, 5" tall
Saucer size: 6″ in diameterPlant size: 9″-15″ tall (including pot)

All the tips and tricks for expert-level care
Ships within 14-16 business days
Free Shipping
Free shipping on orders over $75.
Learn More
Guarantee
If your plant dies within 30 days, we'll replace it for free.   Learn More
No single-use plastic

Ecopots made from up to 80% recycled plastic

Plastic-free packaging
Description
The Mini Money Tree is a perfect indoor foliage plant to give you a tropical feel. With its stout stem and bright green palm looking leaves, it looks both like a tree and tiny palm. Native from Mexico to northern South America, the Money Tree is also very popular in Taiwan and other East Asian countries.
The Mini Money Tree gets its name because the Feng Shui practice believes it will bring positive energy and good luck to the owner. It has been said this plant reduces stress, anxiety and may also help lessen sleeping disorders.
Additional Resources
:
Botanical Name
Pachira aquatica
Common Name(s)
Money Tree, Good Luck Tree, Malabar Chestnut, Saba Nut, Guiana Chesnut, Wild Kapock Tree, Mexican Money Tree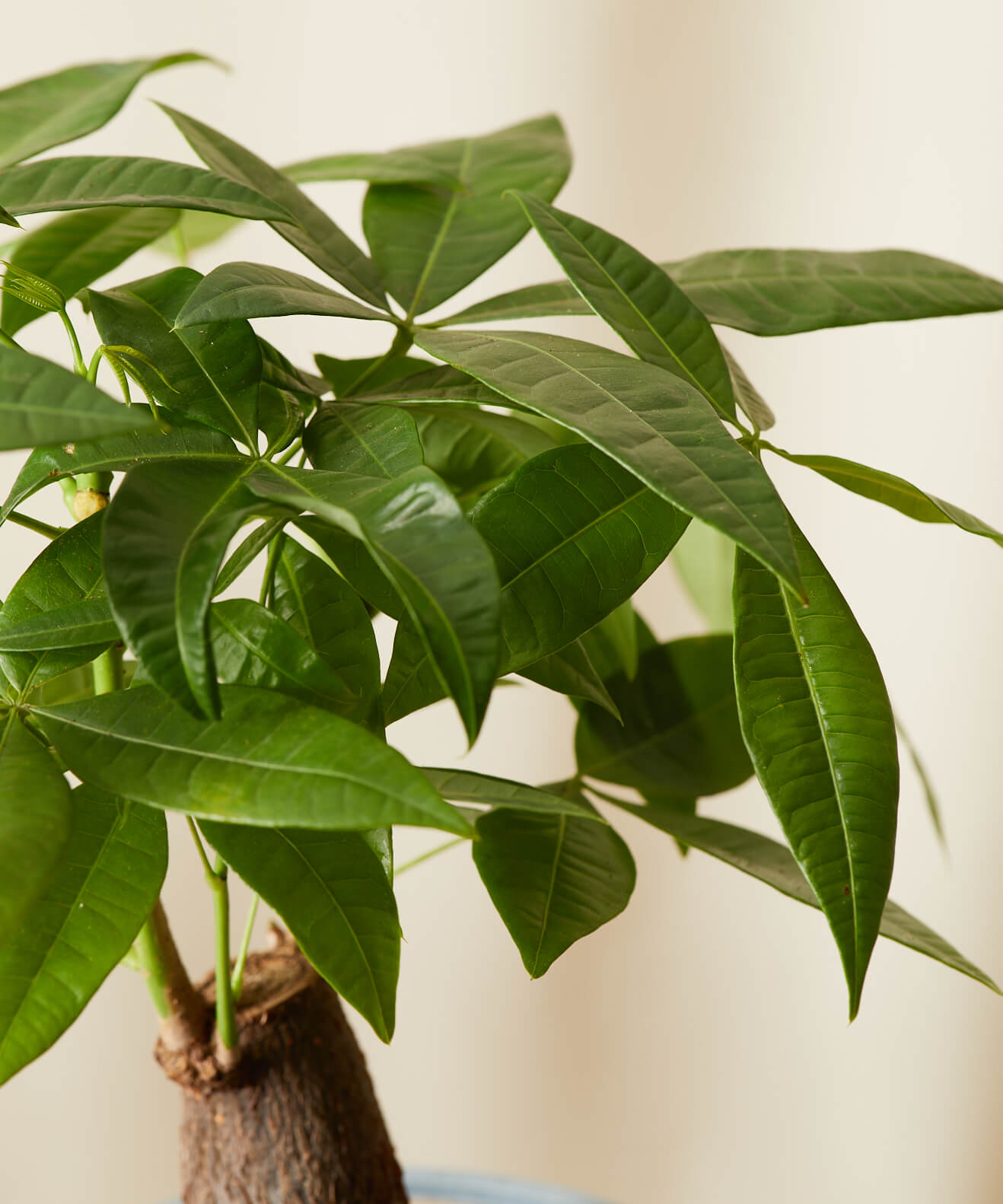 Living Room Ready
Unlike buying a plant from a box store, your Bloomscape plant arrives fully-grown as pictured and pre-potted. We've spent a lot of time selecting pots that have optimal drainage, look great, and come with a saucer so your floor or desk won't get ruined. All you have to do is unpack your plant and find the perfect spot for it in your home.
Fully Grown + Healthy
Most of the time when you buy houseplants, they are partially grown and kept in less than ideal conditions. With Bloomscape, our houseplants are grown and cared for in our greenhouses by plant experts until the day we ship them to you. That way, your plants arrive fully-grown, healthy, and ready for you to enjoy.
What People are Saying
"This is the best plant store I have ever ordered from! My plants were shipped/delivered so fast. When I had a question, Bloomscape got back to me right away, and they were so friendly!"
Jess J.
"The plants are in such great shape when they arrive, the pots are beautiful, and the variety is fantastic."
Meghan K.
"I knew nothing about plants, and was able to feel confident about caring for them. I haven't killed one yet, thanks to help from your care guides and Plant Mom!"
Kayla B.