Red Prayer Plant
$49
Colorful and bold with hints of red on two-toned leaves
Choose Pot Color
Details & Care

Size

SM—7"-12" tall (including recycled plastic Ecopot) Size Guide

Difficulty

Easy—Relatively low maintenance

Light

Low to Bright Indirect

Pet Friendly

Yes—Non-toxic and pet-friendly

Air Cleaner

Yes—Releases oxygen and absorbs pollutants
What's Included

Healthy plant pre-potted with premium soil

Plant size: 7″-12″ tall (including pot)

Ecopots pot and saucer

Pot size: 6.3″ in diameter, 5" tall
Saucer size: 6″ in diameter

All the tips and tricks for expert-level care
Winter Shipping Notice
Based on your shipping location, this plant is currently unavailable for purchase. Please check back when the threat of damaging temperatures has passed in your area to ensure your plant is protected.
For certain shipping locations, this plant is unavailable for purchase until we can ensure it will be protected from damaging temperatures. Based on your shipping location, this plant is currently available for purchase.
Shipping to
Unknown
( )
Free Shipping
Get free standard shipping when you spend $150 or more. Learn More
Guarantee
If your plant dies within 30 days, we'll replace it for free. Learn More
Description
The Maranta Red Prayer Plant has soft dark green leaves with feathered, painterly-like centers of light green and red veins. The colorful foliage and slow growth make this a perfect plant for window sills, mantles, or shelves in need of a splash of color.
The Red Prayer Plant is an easy plant — place it in a sunny spot, keep its soil damp, and mist its leaves once a week and it will flourish.
Gaining its name from the way the leaves fold in the evening resembling hands folded in prayer, the Red Prayer Plant is a fan favorite among plant enthusiasts. Native to the rainforests of Brazil, the Prayer Plant prefers bright, indirect sunlight and high humidity.
Additional Resources
:
Botanical Name
Maranta leuconeura
Common Name(s)
Prayer Plant, Herringbone Plant, Maranta Prayer Plant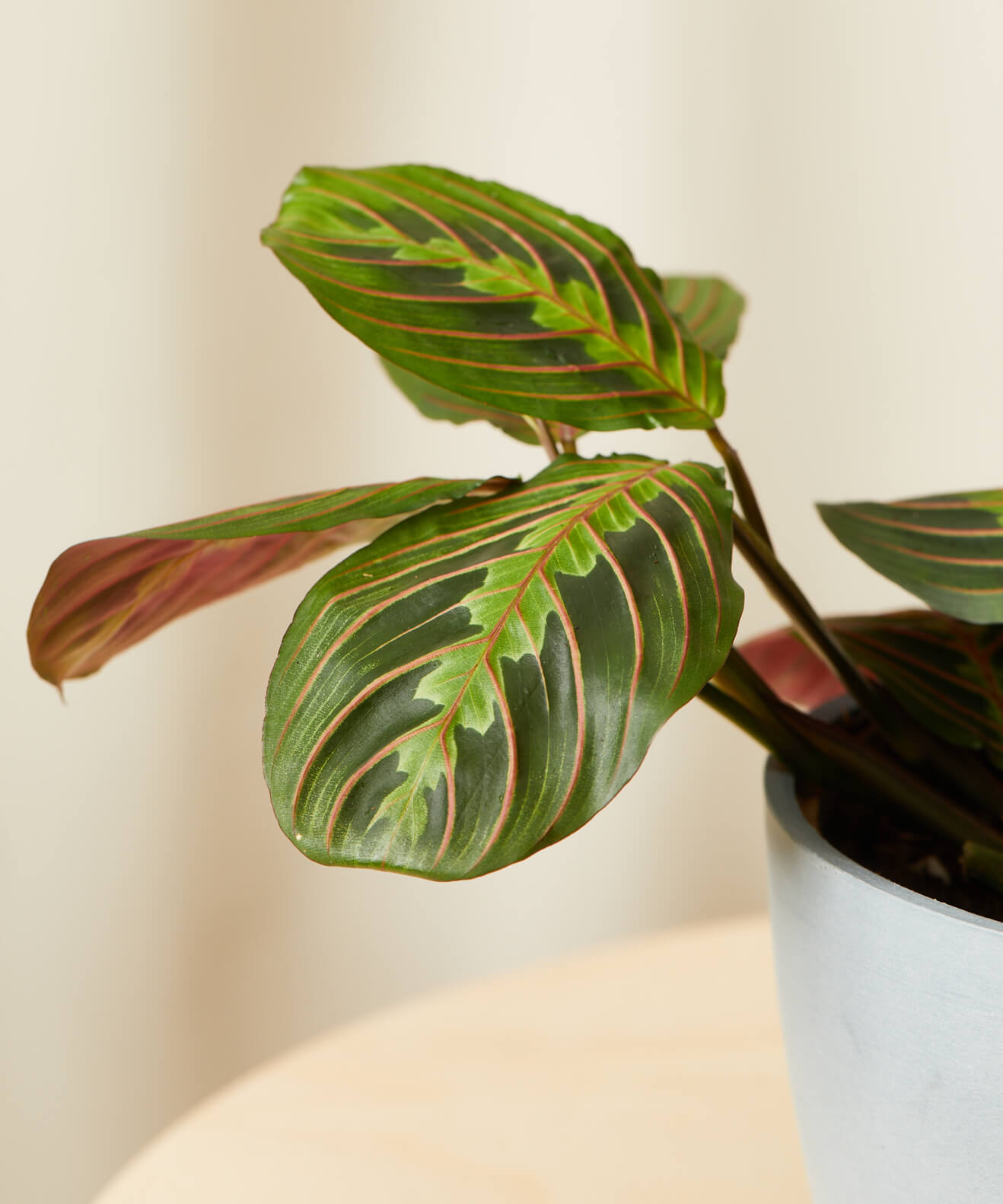 What People are Saying
"This is the best plant store I have ever ordered from! My plants were shipped/delivered so fast. When I had a question, Bloomscape got back to me right away, and they were so friendly!"
Jess J.
"The plants are in such great shape when they arrive, the pots are beautiful, and the variety is fantastic."
Meghan K.
"I knew nothing about plants, and was able to feel confident about caring for them. I haven't killed one yet, thanks to help from your care guides and Plant Mom!"
Kayla B.