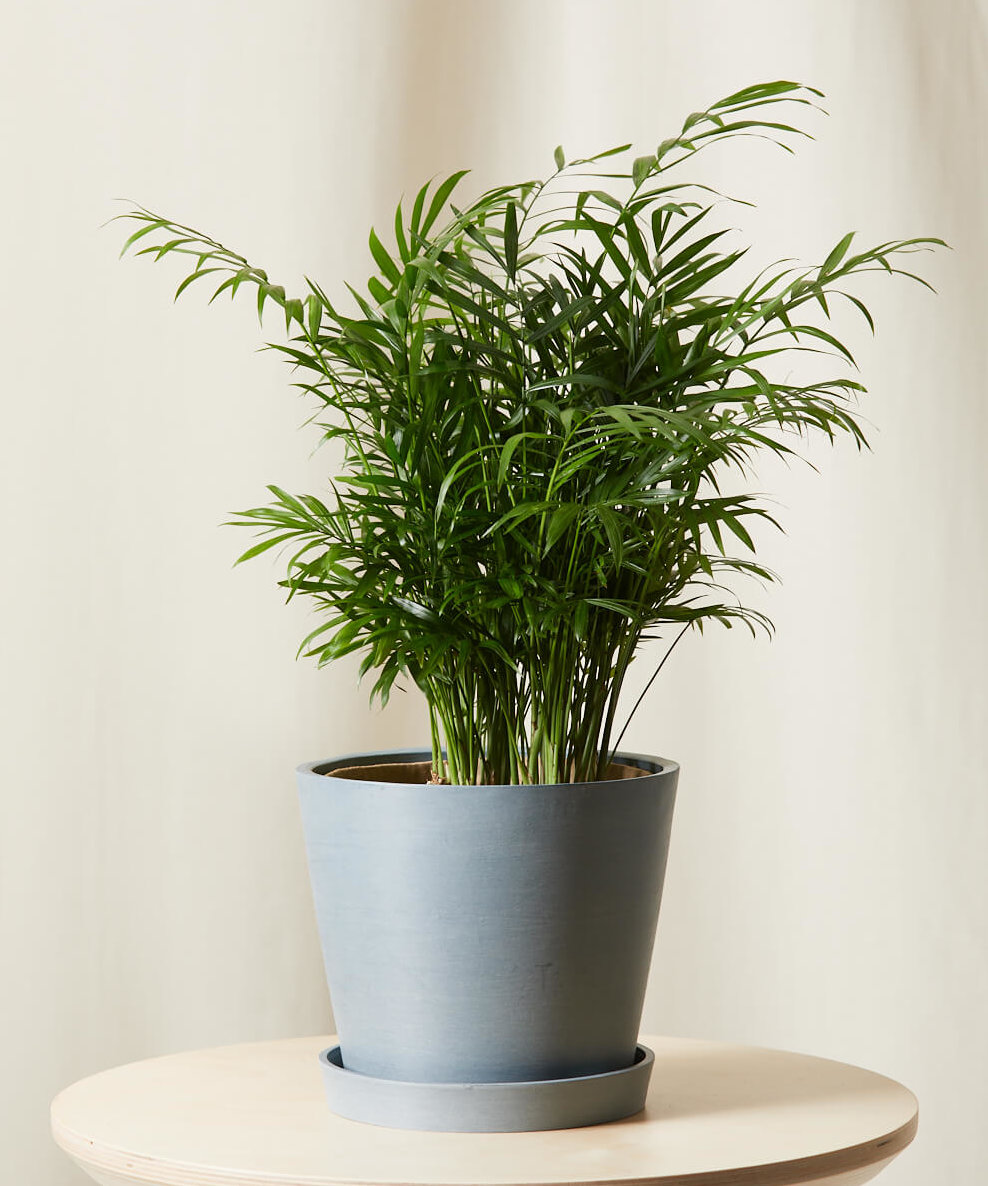 Parlor Palm
$69
Easy and graceful, with lush dark green fronds
Choose Pot Color
Details & Care

Size

MD—15"-22" tall (including recycled plastic Ecopot) Size Guide

Difficulty

No-fuss—Easy Care

Light

Low to Bright Indirect

Pet Friendly

Yes—Non-toxic and pet-friendly

Air Cleaner

Yes—Releases oxygen and absorbs pollutants
What's Included

Healthy plant pre-potted with premium soil

Plant size: 15″-22″ tall (including pot)

Ecopots pot and saucer

Pot size: 8″ in diameter, 7″ tall
Saucer size: 6.5″ in diameter

All the tips and tricks for expert-level care
Winter Shipping Notice
Based on your shipping location, this plant is currently unavailable for purchase. Please check back when the threat of damaging temperatures has passed in your area to ensure your plant is protected.
For certain shipping locations, this plant is unavailable for purchase until we can ensure it will be protected from damaging temperatures. Based on your shipping location, this plant is currently available for purchase.
Shipping to
Unknown
( )
Free Shipping
Get free standard shipping when you spend $150 or more. Learn More
Guarantee
If your plant dies within 30 days, we'll replace it for free. Learn More
Description
This slow-growing, compact palm thrives in a variety of light situations and tight spaces. It's dark green fronds create a bushy, lush plant perfect for tabletops, desks, and shelves. The Parlor Palm will do best in bright, filtered light, but will readily adapt to low light as well. Native to Mexico and Central America, the Parlor Palm requires very little care and is an excellent air purifier.  This indoor plant is highly adaptable making it perfect for offices, businesses with less than ideal growing conditions.
Additional Resources
:
Botanical Name
Chamaedorea elegans
Common Name(s)
Parlor Palm, Parlour Palm, Tabletop Palm, Neanthe Bella Palm, Bella Palm
What People are Saying
"This is the best plant store I have ever ordered from! My plants were shipped/delivered so fast. When I had a question, Bloomscape got back to me right away, and they were so friendly!"
Jess J.
"The plants are in such great shape when they arrive, the pots are beautiful, and the variety is fantastic."
Meghan K.
"I knew nothing about plants, and was able to feel confident about caring for them. I haven't killed one yet, thanks to help from your care guides and Plant Mom!"
Kayla B.